An inspiring book review for all music students and parents to consider.
Honey and Locusts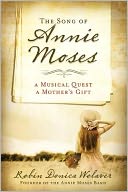 "The Song of Annie Moses: A Musical Quest, A Mother's Gift" by Robin Donica Wolaver
Five years ago, I invited the Annie Moses Band to perform here in Cookeville at a concert sponsored by the Stevens Street School of Performing Arts. The school purchased tickets for each of our students to hear this conservatory-trained family "chamber pop" ensemble, as part of our mission to provide them with opportunities to be exposed to great live musical performances. But while the AMB concert was fantastic (as always!), the highlight of the weekend came the following morning as Annie and Robin Wolaver spoke with our students and parents about the importance of good practicing (requiring the diligence of the child AND the parent) and their own road to musical excellence.
For many parents who attended, that morning changed not only the way they practiced with their children; it changed the way they…
View original post 510 more words